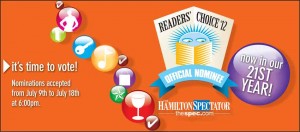 Hamilton Spectator 2012 Readers' Choice Nominations
It's that time of year again. We would really appreciate it if you would help us out and nominate your favorite Physio In Motion therapist for the Hamilton Spectator Reader's Choice awards.
Let your therapist know how much you appreciate them.
Here is a link to the survey – it just takes a few minutes. You will find our services listed on the last few pages of the survey.
Thanks from everyone at Physio In Motion.
http://survey.metroland.com/TakeSurvey.aspx?PageNumber=1&SurveyID=p2KH5l4