Is your jaw painful?
Does your jaw click?
Does your jaw ever get stuck or locked?
Do you have a headache or facial pain on one side?
Is your ear ringing, or feel like it might be blocked?
If so, you may have a problem with one of your temporomandibular joints (TMJ). These little joints play a big role in your life: speaking and eating! Problems with the TMJ can arise by stress, injury or dental issues (grinding).
The Physiotherapists at Physio In Motion are experienced in treating TMJ problems. We will assess your TMJ for mobility and tracking (how well it moves), the muscles around the jaw, and your neck.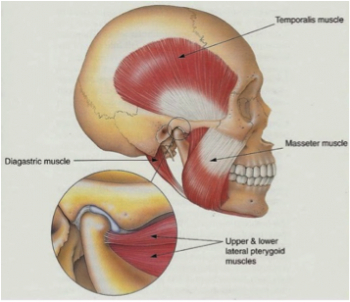 After the assessment we will explain our findings and provide advice on how to get your TMJ feeling better for you. Treatment includes an exercise program of specific TMJ exercises and hands-on therapy for the joint and muscles. We can also use acupuncture or ultrasound to help with pain relief, as well as instruct in the ap
plication of heat or ice around the TMJ and neck. Massage Therapy can also be beneficial in the treatment of TMJ disorders.
Most TMJ disorders respond well to Physiotherapy, however we will also co-ordinate treatment with your Dentist or Orthodontist if needed.
TMJ treatment in Hamilton is available at our Physio In Motion clinic at 700 Main Street East in Hamilton.  Please call the Physio In Motion clinic at 905-218-6556 and speak with Twila to book an assessment.  If you prefer, an experienced physiotherapist will call you back to discuss your concerns with you prior to booking an assessment.